Christmas greetings everyone. The competition season has now ended for everyone, so the courts are available for social play until February. Congratulations to our Monday section 1 team who won their 6th flag in a row. Fantastic effort to all the teams who made it to the finals.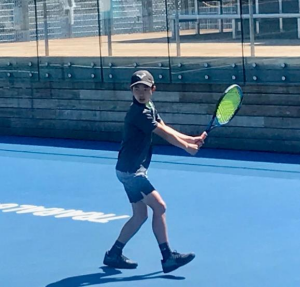 Congratulations to Auray Hu who won the Local Sporting Champions - grant for the 2019 School Sport Australia U12 Tennis Championships.
Organised social play will kick off each Wednesday evening at 7.30pm during this holiday break. Anyone wishing to play on either Christmas Day or New Year's Eve please contact me on 0425711364 and I will advise if there is enough interest to play on these evenings.
Saturday social at 2 pm will continue each week with a Christmas BBQ on the 21st December. However, on the weekend of the 18th and 19th of January there is to be an Interclub round robin held over that weekend between 4 local clubs. Please register your interest as soon as Coach Ben Longridge sends out the details to cement your spot in the HE Parker team. We recently took part in a junior version of this social event which was very much enjoyed by all.
The new club uniform of polo shirts and matching shorts or skorts has been well received. The teams certainly look very smart when all members are wearing them.
You can place your orders by email to "secretary@hprtc.org.au" or directly to Erina Wotherspoon.
Free Mulch. Please help yourselves to the mulch piles near the entrance of the club. Your garden will appreciate it during the summer months
We wish you a safe and happy holiday season and hope to see you enjoying the courts whenever you get a chance.
MERRY CHRISTMAS and Happy Hitting!